At Atlantic Endocrinology & Diabetes Center, New York we understand that knowing that you need to see an endocrinologist can be worrisome.
You will depend on your endocrinologist's knowledge and expertise to manage hormonal or glandular conditions that often affect many body systems.
Things to look for when searching for an endocrinologist?
Whether you're recently diagnosed with diabetes, recently moved, or are ready for a change, selecting an endocrinologist is important to your diabetes management.
Here are some important factors to keep in mind.
1. Ask Your Primary Care Doctor
The best starting point to find the right specialist for you is to consult with your primary care doctor to get their opinion and receive some referrals.
Your personal doctor knows your health better than anyone else, which puts them in a unique position to recommend endocrinologists who can tailor a treatment plan to your specific needs.
2. Get Referrals
You can ask family, friends, and other healthcare providers for recommendations. Take the time to research the doctors' credentials and experience.
As you narrow down your list, call each endocrinologist's office and ask for a consult appointment to meet and interview the doctor.
3. Visit AACE Website
Visit the AACE Find an Endocrinologist on the American Association of Clinical Endocrinologists website.
You can search for an endocrinologist in your area by location, area of interest, or both.
4. Look Into Their Background
Your decision should not be predicated solely on the recommendation of your doctor.
While their advice can be invaluable, you need to do further research into their specific practice, credentials, and previous patients.
Make sure they have the necessary training, experience, and history of treating patients with similar conditions to ensure they can give you the care you need.
5. Consider the Endocrinologist's Experience
When it comes to specialized medical care for endocrine or glandular conditions, the more experience a doctor has, the better your results are likely to be.
Ask how many patients with your specific condition the endocrinologist has treated. If you know you need a specific procedure, ask how many of the procedures the doctor has performed and find out about complication rates—complications the doctor has encountered as well as your own risk of complications.
6. Give Them a Visit
After you have completed your research, go for a visit with your narrowed list of doctors.
Experience what they are like, what their communications styles are, and whether you feel comfortable with them.
You never truly know how compatible you are with your doctor until you go for a visit.
7. Read Patient Reviews
Reading what other people have to say about a doctor can provide insight into how a doctor practices medicine, as well as how his or her medical practice is operated.
Patient reviews typically reflect people's experience with scheduling appointments, wait times, office environment, and office staff friendliness. You can learn how well patients trust the doctor, how much time he or she spends with their patients, and how well he or she answers questions.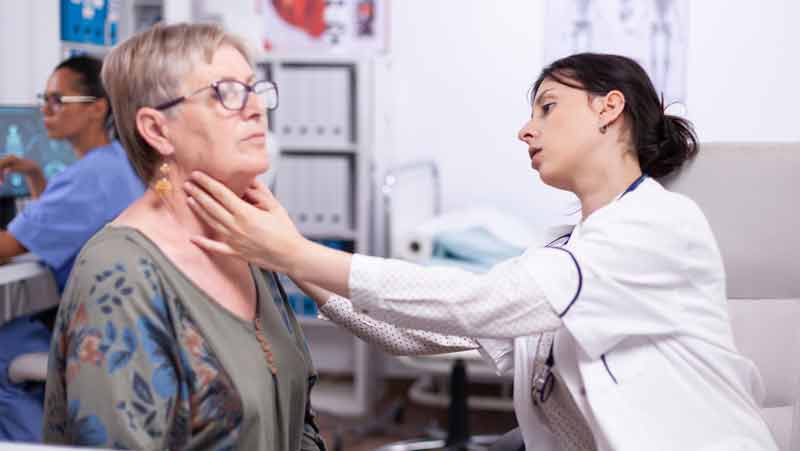 8. Ask Questions and Observe
Write down questions ahead of time to ask prospective physicians to make sure it's the right fit.
For example, what is their philosophy on weight management, glucose control and diabetes technology? If you use or are interested in using an insulin pump and CGM, are they familiar with these tools? What about diabetes management apps?.
Also feel free to ask about appointment occurrence/scheduling, refill policy, and doctor/patient communication in between office visits. Observe the office staff behavior, i.e. answering phones, wait times, and manners.
9. Know What Your Insurance Covers
Your insurance coverage is a practical matter.
To receive the most insurance benefits and pay the least out-of-pocket for your care, you may need to choose an endocrinologist who participates in your plan.
You should still consider credentials, experience, outcomes, and hospital quality as you select an endocrinologist from your plan.
10. Bring Your Information
Prepare for your appointments so your doctor can better help you meet your goals.
Bring your recent log books or CareLink reports, diet and activity history, pertinent medical information, any information on a new type of therapy you're interested in learning more about, and questions.
11. Evaluate Communication Style
Choose an endocrinologist with whom you are comfortable talking and who supports your information needs.
When you first meet the endocrinologist, ask a question and notice how he or she responds.
Does he or she welcome your questions and answer them in ways that you can understand? After your appointment, think about whether you felt rushed or engaged.
Find an endocrinologist who shows an interest in getting to know you, who will consider your treatment preferences, and who will respect your decision-making process.
12. Consider Gender
It's important to feel comfortable with your endocrinologist's gender because you will need to openly discuss personal information.
Your own gender is also an important consideration when it comes to endocrinology because of sex hormones and other differences.
Endocrinologists are becoming more skilled in caring for women and men differently. Ask the endocrinologist about his or her recent training and experience specifically related to your condition and your gender.
13. Don't Be Afraid to Switch
Remember this is your diabetes and no one else's.
If for any reason – and at any time – you're not comfortable with the endocrinologist, practice, staff, or the way they manage your health, you have every right to switch.
Make the Right Choice
When searching for an endocrinologist , never settle for a doctor who you believe cannot provide you with the care you need.
Work with someone you can trust and who you believe has your best interests at heart to get your condition under control.
Atlantic Endocrinology & Diabetes Center is among the top endocrinologists in New York City and can help you navigate the complexities of your condition, creating a plan to make you as healthy and comfortable as you can be.